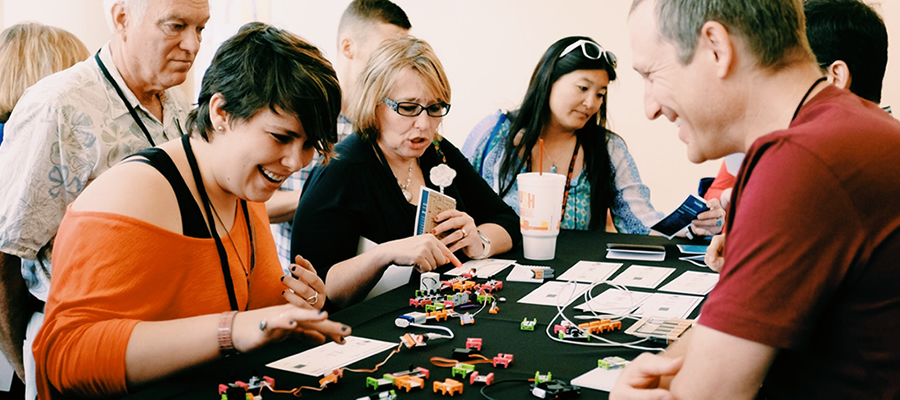 TEDxMileHigh 2014
06/16/2014
This weekend we participated in TEDxMileHigh as exhibitors focused on this year's theme of "Emergence". As a company that works in technology, we wanted to share what we see emerging in the projects we're working on and within a space we play in – hardware.
Every day we encounter new ideas that revolve around custom hardware, whether it's shared on Kickstarter, via Twitter or engaging with a new client. Smart cups, pet trackers, guiding handlebars and more are all starting to trickle into our daily lives. As part of our exhibit at TEDxMileHigh, we wanted to share the process of exploring concepts, refining an idea, prototyping and delivering a final product.
For exploring concepts and prototyping we decided to use littleBits, which are little snap-together electronic hardware components that all do different things. You can combine different littleBits to make anything from a simple idea such as a flashlight to a more advanced concept with logic programmed using an Arduino component.
People were able to explore ideas, refer to predefined projects or just play with the littleBits to learn more about core concepts behind working hardware. The wide spectrum of attendees young and old had a blast!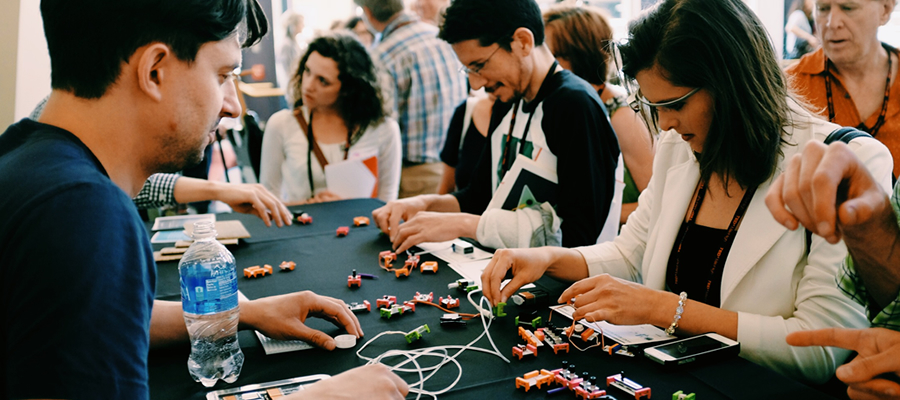 After exploring, attendees were able to play with a guitar effects pedal and an Arduino-powered security system built with littleBits. Finally, the end of our exhibit featured process work, form factor explorations and a manufactured prototype of a wearable device that we're working on. It was great seeing the connections people were able to make through the various steps of the process we were sharing.
While software will always be an important part of the way we interact with things, the ability for individuals to execute their hardware ideas is becoming more accessible. In many cases, the experience behind the glass, the way something looks and sits in physical space, is just as important as the software that powers it. When you have great software AND hardware, that's when magic happens.
We had a great time at TEDxMileHigh 2014! Thanks to the organizers for including us and to littleBits for helping us make our exhibit a great experience for attendees.
You can learn more about TEDxMileHigh at tedxmilehigh.com and get your own littleBits at littlebits.cc.